I know, way, way to long.. but I have a few reviews for you. So just hold on tight and let's see what I got for you :)
Amy's Story
(Fang Chronicles #1)
By , D'Elen McClain
Amy is hot on a story as she tries to discover what life is like for teenage girls living on the street. When her disguise almost gets her killed, she's saved by one of New York's most eligible bachelors. His private life is filled with secrets and his story sparks Amy's interest. Discovering the truth lands her in a world of vampires and werewolves that she never dreamed existed. She also didn't dreamed she could truly love a man or vampire but Marcus shows her the light. Now the two must fight the one person who can destroy their chance at love. With the help of Marcus' clan of werewolves the war begins
Review~~
3.5 Stars
I thought this was a fun read. I always enjoy reading another's idea of a shifter story. The way Vampires and Wares' are together in this story was new and fun!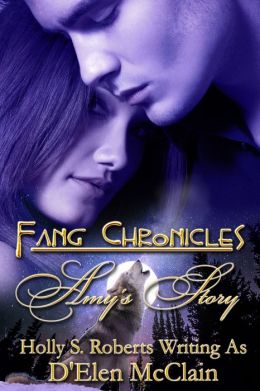 The Beast Within
(The Elite #1)
By, Jonathan Yanez (Goodreads Author)
Once eighteen-year-old Connor Moore stumbles across an almost human species, he is faced with history's darkest secret, a daunting future, and a love life he can't even begin to explain.
Concealed throughout the pages of time, there has been a powerful race of human-like creatures manipulating mankind. This Elite race is made up of five ruling families, who have obeyed The Law and remained content to keep their identities a mystery. Now after centuries of secrecy, an ancient foe is forcing them out of hiding.
When a dark-haired mystery woman named Laren crosses Connor's path his life is turned upside down. Soon Connor is taken on a heart-pounding journey that leads to a startling discovery of who he really is and a daunting future of what he is to become.
Review~~
4 stars
I was very sorry when this one ended. I wanted to keep going to find out what happened next. This was fun and different.
Club Shadowlands
(Masters of the Shadowlands #1)
By, Cherise Sinclair (Goodreads Author)
Her car disabled during a tropical storm, Jessica Randall discovers the isolated house where she's sheltering is a private bondage club. At first shocked, she soon becomes aroused watching the interactions between the Doms and their subs. But she's a professional woman--an accountant--and surely isn't a submissive...is she?
Master Z hasn't been so attracted to a woman in years. But the little sub who has wandered into his club intrigues him. She's intelligent. Reserved. Conservative. After he discovers her interest in BDSM, he can't resist tying her up and unleashing the passion she hides within.
Review~~
18 and older
Woo this was a hot sexy read. I really enjoyed this story and am glad I picked this one up!
got some more coming :)